Off into the green!
Off into the green!
Hiking in the Philippines? A sea and beach paradise with 7100 islands? How does that work? Well, there are mountains too.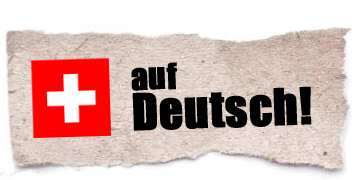 Sure, the highest mountain here, the Mount Apo on the island of Mindanao is not exactly the Dufour peak at 2900 meters, but hey: the island is obviously at sea level, so there is quite a difference to Switzerland, which is even at its lowest point still above the sea level.
Mount Apo was not the goal of today's hike. No. Today it is supposed to be Mount Maculot. Its summit is "only" 930 meters above sea level. Many Swiss – including me – would call that a hill and not a mountain. Is this an understatement? We'll see it today!
Starting point for the hike to the summit is the small town of Cuenca, pronounced "Kuenka" in the Philippine province of Batangas. This province is still located on the largest of the Philippine islands: Luzon. No, not Lucerne, Luzon, hehe.
Saturday morning, June 17th at 03:00 o'clock the alarm goes off. Time to get up. What? So early? Yes, unfortunately it is necessary. To get from our place in Pasig (Manila) to Cuenca, we would need more than 3 hours and if we want to finish the hike on the same day as we started it, we would have to startit early. Lim and I have breakfast and then leave the apartment. For the first time I try the taxi service Uber. To my knowledge in Switzerland quite controversial, if not illegal, it is normal and not forbidden to use this service here. In the app on your mobile phone you enter your place of residence and then your destination where you want to go. Then all available taxis in the area are indicated by GPS on the display and also the ticket price to the destination.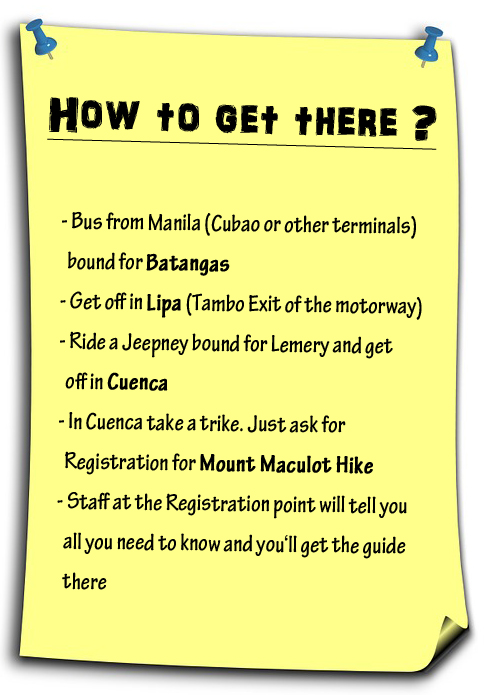 We are astonished, as four minutes after entering our destination in the mobile app, a car practically in front of our apartment block stops. Off we go to the bus terminal in the Cubao district. In the morning at 04:00 o'clock there is much more traffic than I expected, but not enough for a traffic jam. We are there quickly, and not even 20 minutes later we are already sitting in a bus to Batangas. This is all so smooth, so fast and not at all nerve-racking today, I think. Hardly any waiting times. Amazing.
While a red sun slowly climbs the sky to our left, the air conditioning in the bus does its best and Lim gets my raincoat against the cold.
I do not know what the poor fellow will do once he comes to Switzerland, hahaha!
We try to sleep a little. The journey would take about 2.5 hours. On a motorway, we head south. Again and again the bus has to slow down because we have to pass numerous toll stations. Yes, here you have to pay for the use of the motorway, and so felt every 2 kilometers, haha. Very annoying. Nevertheless, there is not enough traffic to create a traffic jam here either, and so we arrive very quickly in Lipa, where the bus leaves the motorway and we leave the bus. Directly after the exit  a Jeepney is already waiting for us. I cannot believe it. Again so smooth that we can enter the vehicle directly and it takes off without waiting time to arrive about 15 minutes later in Cuneca.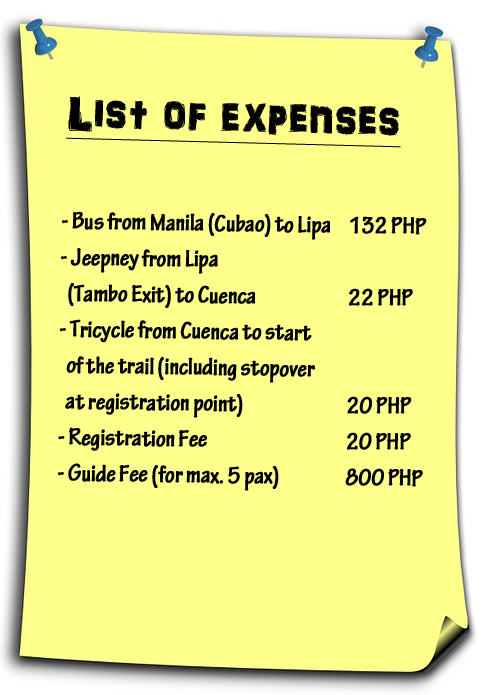 From here a trike – abbreviation for tricycle – takes us to the registration point for the hike. Yes, everyone has to register here and of course pay a fee. Then Lim and I get assigned a guide- yes, that too is mandatory. I want to know why. I am told that there have been incidents on the mountain. What kind of incidents, I would like to know. I should ask our guide, they tell me. Well then.
Always these pseudo-security measures, which are only there to make money, I think.
Nobody is allowed to hike the mountain without a guide.
On another occasion someone has told me that it is like this everywhere in the Philippines. Just imagine what an uprising would trigger such a regulation in Switzerland! When Mr. and Mrs. Dubach want to go on the Melchsee Frutt on a Sunday with the kids and they are told at the cablecar station that they need a guide to hike around the Melch lake because there have been incidents. What kind of incidents, they should kindly ask the guide, hahaha.
Ridiculous, I think. No matter. It is my opinion. Our guide for today is called Carlos and is 21 years old. Quickly Lim and I cover up with sun screen and then we start on the path. Even from Lipa, we saw the mountain from a distance already. It cannot be overlooked with its 930 meters. Thus, the path to the Rockies, a lower peak on 730 meters, goes fairly upwards from the beginning.
Finally green, I say. I missed the green, the trees, the forest, the fresh air, when I was in Manila. Now I finally have it again. I am very happy and breathe the wonderful air with pleasure. Never would I have thought it is possible to miss something so normal.
This is Lim's first hike. He has never made a hike in his life, and since I like it so much, I have persuaded him to come along. He is not at all sportive and likes to stay indoors rather than outdoors. Carlos goes a fast pace, even for me as a decent hiker. Again and again I ask Lim if he wants to take a break. Again and again he rejects it. We all sweat. The two Filipinos each have a small cloth to wipe the sweat. My sweat simply drops onto the ground, hahaha.
Now Carlos takes a drinking break. Finally, I think. Lim seems to be able to keep up with the pace, I'm very surprised. From the start point to the Rockies it should take about 1:30 to 1:45 hours, I read in the net. We always come by to so-called camps. These are small wooden counters with seating where someone sells drinks and snacks. There are 14 camps all the way up to the Rockies, says Carlos. Wow, I think, there are many. At the first camp we meet two Filipinos. A man and a woman – of course with their mandatory guide. Lim looks exhausted. We drink a lot of water. I am exhausted too. The path is very steep.
They don't mess with walking arround the mountain, the path attacks it up front!
Everytime I wait until Lim says he wants to go on. Since it is his first hike, I want us to go at his pace. Again and again we meet the two Filipinos at the camps and finally we overtake them. Camp 7. Then Camp 8. Now the Camps appear in ever shorter distances, as the way seems to become even steeper. At Camp 14 we would have reached the Rockies. Praised be Allah, that the way goes through the forest, I think. For we are protected from the sun. I cannot imagine going up this path in direct sunlight! At Camp 12 or so we have a magnificent view of the Taal Lake, pronounced Ta Al.
Now it is not far anymore.
Carlos pushes for a quick ascent. As long as Lim can keep up, I think it's ok. But now he starts to be really exhausted. His steps are becoming slower. I try to motivate him. Then we drink plenty of water again and make short breaks. Shortly afterwards it is done and we have reached the Rockies! When I look at my watch on my phone – I never wear a watch – I can't believe it: it's 08:00 o'clock! We started the ascent at around 07:00. 60 minutes including the breaks! Incredible. This must be a new record! Lim sits down and puts his head in his arms. He is totally broken.
"I will never go hiking again!"
he explains. Was it too much? Has the desire to hike now really passed? I believe it is only a temporary phase of being pissed, hehe. Sure, it was extremely exhausting to get up here and especially for him. We're taking a long break. I mean, if we are up here at 08:00 already, then we would have lunch on the bus back home, haha. There is coffee up here and so I treat myself to two of them. For Lim there's a Coke to raise his sugar level back to normal. He has drunk enough water though.
Now he tells me that he has a history of collapsing. Due to the heat and not even after physical exertion. Well, I think. And you tell me now? But I do not blame myself. He is young. Although unsportive, but young and not overweight and that makes up for much. I am convinced that after a good break he will be ready again.
After an hour the miraculous healing is done and Lim is ready again! But before we hit the summit, we go to the Rockies. This is a rocky vantage point not far from the last camp. What is going on here, I call photo-tourism. There are dozens of hikers who are being photographed by their guides at predefined spots. There is a proper queuing at the best places for a photo. For the guides it seems to be total routine. Unbelievable I think. But more than that, the overwhelming view from this rock formation on the Taal lake attracts me. It's just breathtaking. I think I am one of the few ones, who just pause to admire the view. Without photo. Without Selfie. Without mobile phone. Just sit and be amazed. Linger quietly.
A hiking group with specially designed t-shirts for this hike is also present. The shirts are printed with today's date. The group now utilizes its most important peace of equipment, which is indispensable for such a hike: a selfie stick! Then I also partizipate in the shooting- of course, only under force and group pressure 😉 – and some beautiful pictures develop:
The Instagram and Facebook servers will be fed with some bytes from here today, I think.
We go back to the camp and eat our sandwiches, which we prepared yesterday. Lim has fried ham in his sandwiches since he has never eaten raw and thinks that is not normal and I have raw ham, hehe. To have lunch at 10:00 o'clock when you got up at 3:00 o'clock makes sense to me;) Then I realize that the entire photo session with the waiting took as long as the ascent to up here, hahaha. Let's go. The summit of Mount Maculot is waiting for us! From the last camp to the summit it should be about an hour, Carlos says. This time I walk behind him and Lim at the rear. I tell our guide that we should slow down the tempo and additionally I slow down artificially. We arrive at the summit of the mountain after about 45 minutes. Up there is a sign, with which one can take the typical summit pictures.
Apart from the sign and the beautiful view there is not much here and we are practically nowhere protected from the sun. So we do not stay long and make our way down. The way down is supposed to lead to a grotto. After a few hundred meters it becomes obvious that the descent would be more dangerous than the ascent. Very steep it goes down and in some places we need even a rope to get down. The soil is also a little slippery and I fall once on my butt.
We arrive at the grotto and are glad that the steepest part of the descent is over. From here, we have a good view on the summit on which we were less than an hour ago. The grotto was named after that of Lourdes.
From here, many steps of a stair lead past the symbolic Fourteen Stations of the Crucifixion of Jesus. I am the first foreigner he has taken to the top of the mountain, Carlos says. I am curious and question him a little about his life. He lives with his sister and his aunt in Cuenca. His father died seven years ago from heart failure. He fell asleep and did not wake up. His mother works in Manila, in the Malate district. He also has a girlfriend since seven years, with whom he often goes to church on Sundays.
As we walk through a field of high grass on both sides, I realize that we have made the hike. Our legs tremble a little from the descent, but Lim and I are excited. Especially because he did it! This was a hard hike, and especially for someone who is not sportive. Bravo! 🙂
With a trike, we go back to the Jeepney, with the Jeepney back to the bus and before we can say knife, we are back in the traffic of Manila. In the meantime, more cars are driving than morning at 03:00 and this time it is enough for a decent traffic jam. Welcome back, I think.
The escape into the green was worth it!