Inside the Palaces of Jaipur
Inside the Palaces of Jaipur
From the series: Stories from India
From March 6th until March 8th
It is so not at all loud. I hear no horn. Only a few people speak in the darkness of the street, which seems not to be illuminated at this time of the day.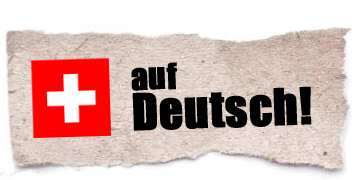 Dom and I are among the few who seem to be traveling around this hour. We spot a few other pale faces now, however. French people. A young couple. They are also on the way to the NDLS station. To New Delhi Railway Station. Our train to Jaipur would leave at 06:05 in the morning.
The usual idiots are already standing in front of the station again and ask for a ticket. Again we pass them, this time without a word. We follow a few other tourists who seem to enter the station through another entrance, than the main entrance. There is a baggage check point occupied by uniformed staff. Directly next to the x-ray machine is a man who seems to check the tickets. Two tourists in front of us show him theirs and he lets them pass. Then it's our turn. I show him the tickets. He looks at them and says:
"You have to confirm your tickets, counter number 6."
But what about the two women who were admitted directly before us, they did not have to do that, we wonder. They have a different train, says the guy. Then we ask again for the counter. Annoyed, he shows us the hall, where the counter is in. Then he takes off.
We are not sure what is happening here. There is actually a counter number 6, but when I see a man standing in front of it and not sitting behind the glass, I realize what this is. We give him the tickets, he looks at them with the flashlight of the mobile phone, as it is still dark. Like the other guy a few days ago, he just repeats what's on the ticket and then says:
"Your train is having technical problems and will not come to this station today."
It's enough for me and I say it out loud to Dom. He's fucking with us. Enough bullshit so early in the morning. I just do not believe him. Our train would come right here and that's it. I am angry. I take the tickets and we go through the main entrance into the station. There we look for our train on the board. A friendly gentleman inside the station tells us how to get to our track and actually: there is the track. Number 12, as I remember and also the number of our train is displayed. Nothing of technical problems and so on.
Inevitably, I begin to curse about the two guys who were trying to fool us. So many beautiful words in Swiss German resound , hehe. We wonder how brazen people are here. Incredible. Well, we should have known better and just go past the guy, because he was not wearing a uniform. No matter. This too will not always be a save sign.
On the platform we meet the French again. A bit of small talk emerges, but for a proper conversation it is too early in the morning 😉 Then the train enters. In Switzerland, I had booked two seats in the "Executive Chair Class". A class that is offered only by this one train company. In India, there are several private transport companies that carry out public railway transport. Apart from this, there is more than the usual two class system that we know in Switzerland. Here is a brief overview of most different classes in the Indian trains:
This morning, Dom and I are on the AC Executive Chair class, where to our surprise also a free breakfast and constantly tea is served! Wow.
The train journey to Jaipur would only take about 4 hours. I'm trying to sleep a little. Dom seems to observe the landscape that passes us while listening to music. It changes – the landscape as we leave the city. Less houses, more plants.
We seem to have arrived in Jaipur. With our luggage we get off the train and try to get an overview. Then I see a sign, on which the name of the station stands. Somehow the name is not the same as the one of the station to which we would like to go. A uniformed officer appears next to us. I ask him if this is the station in Jaipur that we are looking for. He says no. Next station.
At this very moment the train moves and drives off!
Damn shit, I think. The doors are closed and the train gets faster. At this moment, one of the doors opens and someone is waving at us! Dom and I run and jump into the moving train! It was a scene that no Hollywood stuntman could have portrayed better! Pure blockbuster action, hahaha.
We are very happy that we made it and thank the friendly Indian who opened the door for us. A gentleman in his late fifties, who has been living in London for a long time and is here for holidays. After we told him about our experiences in Delhi, he says that he is being fooled himself here too. Even though he is Indian. He thinks the people here would know whether one lives here or not. They would see how you behave, no matter how you look. Well, then we would not stand a chance even if we looked like Indians, I think, hahaha.
When we arrive at the destination station, the jostle starts already. We are again addressed by jugglers and friends. One of them is successful and organizes a Tucktuck ride to our hotel. But he is not the driver. Two men are approaching us running from the parking lot. One of them quite tall and young, the other small and older, so late 40.
He introduces himself as Mister Kahn.
The other is Asif, his nephew. They take us to our accommodation, the Krishna Palace. But before we get there, uncle and nephew are busy advertising a tour to sell us. Mr. Kahn even has a notebook in which other tourists wrote about his services. There are reports from Americans, Dutchmen and many others.
What stands there, sounds good and so Dom and I arrange a tour for tomorrow. Today we do not want to do any sightseeing, but to arrive and have a little rest. The price is already agreed upon, 1600 rupees for two persons, for a day trip to different temples and the famous Amber Fort. Mister Kahn remarks then: If we are not "happy" at the end of the day, we would not have to pay. Oh, that's an announcement.
"You not happy, you not pay."
The Krishna Palace Hotel is a beautiful building. Frankly, I supported it mainly because of the appearance and the price. And Dom has agreed, thank you;)
Tuesday, March 7th. Mister Kahn and his nephew pick us up in front of the hotel and off we go to the first sight of the day: a small temple. 30 rupees entrance fee per person. We stroll around a little, make a photo here and there. There are only the two of us and two other tourists. Uncle and nephew are waiting for us in front of the temple.
Next stop is the famous Amber Fort. It was built under Raja Man Singh I in 1592. Surrounded by high walls on a hill, it was probably quite well defendable. And in fact, it is, as the name implies, amber coloured. Dom and I walk the way up and take a closer look at the whole thing. Some tourists – some of them more round than rectangular- ride the way up on elephants.
Very imposing, such old, powerful buildings. They give a small impression of how life seems to have looked here hundreds of years ago.
Mister Kahn and Asif get us to lunch, after a short stopover at a lake. A simple restaurant, nothing special. Dom and I order a Thali. This is something you actually get everywhere in India. Mostly served on a large plate, you get a variety of dishes in small portions. In the middle mostly rice. Along with it you eat pita bread. Lentils in a sauce are almost always there, as is a bit of masala and mixed pickles.
During the meal, uncle and nephew want to know more about us and ask some questions. But the way they do it, we like less. To our question, what else to be seen in Jaipur, come the most diverse ideas. All of them are less cultural but more commercial. For example, we are suggested to let us be brought to a tailor and have a suit made for us at a very, very good price. At this price, we would never get such a suit in Switzerland. Possibly, we say. Certainly, we know.
But neither Dom nor I are interested in a shopping tour. But uncle and now more and more the nephew, try to continue. What about jewelery? There are blah blah blah, it sounds in my head. I'm not even wearing a watch, so why should I buy jewelry, I ask. For the loved ones at home, comes the rehearsed answer. And then the little addition, which pulls the whole thing into the ridiculous:
For your mother or your sister. Do you not love them?
Oh my God, now they have taken the biscuit, but totally. Such a nonsense. It must be the same in Doms head as in my own. We declare that we absolutely have no interest in going to any store, or any factory and looking at any products. It was not about getting to know us at lunch, no. It was just about selling something. So the two now stand up and want to wait outside for us.
After Dom and I have paid for our food, we go to the entrance and discuss briefly what we yet want to see in Jaipur. The Hawa Mahal shall it be. A famous temple that is also located in the Pink City, another name for Jaipur. Because of the uniformly pink color of the buildings in the Old Town district. They received the painting in 1876 in preparation for the visit of Crown Prince Albert Edward, Prince of Wales. Pink is Rajasthan's traditional color of hospitality.
On the way, Mister Kahn keeps stoping here and there and Asif goes out to talk to somebody or walks in to some stores. Annoying. Slowly, however, we realize that not the uncle, but the nephew seems to call the shots here. Again and again the latter insults strangers while we wait in traffic. He always brings up the same, stupid joke. Slowly it becomes really annoying. Briefly we take a look at the Alber Hall museum from the outside, as it is a pretty nice building, but that's it.
I've seen it and I do not feel like looking at anything or going anywhere with these two idiots. Asif is so irritating to me. A real bonehead he is. Dom feels similar, only that he likes to take a closer look at a rather reasonable proposal from Mister Kahn to visit a weaving mill or something. On the way back to the hotel, Asif drives like an a-hole and chases cows in the narrow streets with the Tucktuck.
Yeah, here in a Muslim area you can do that, bonehead, I think.
In a Hindu place, it would look a little different. Unfortunately, uncle and nephew have no idea how to deal decently with tourists. When we are placed in front of the hotel, we are concerned about the affair with the payment. I remember the testimony of yesterday: If you no happy, you no pay. Actually, we should have paid only for the morning, because that was good and the behavior of the two ok. The afternoon was just bullshit. Dom asks me how much tip we should give them. I do not want to give them anything, but then say a hundred for both together. When Dom wants to hand out a 50 rupees bill to Mister Kahn, he looks at him and says:
"Come on, that's childrens money."
Obviously not enough for him. He does not even want to accept it. It leaves me speechless and I am almost exploding inside. In Swiss German, I say to Dom: do not give him anything then. I cannot believe it.
Dom is diplomatic and remains calm. Asif looks up from the Tucktuck. The atmosphere is loaded. Mister Kahn now receives one hundred and Dom says he should share it with Asif. Then we say goodbye and go into the hotel.
On Wednesday, March 8, Dom and I sit in our room at the Krishna Palace Hotel. Why are we not outside and doing something? This has two reasons. First of all, we need to think about where we want to go to after ones of our next destinations, the city of Varanasi. And secondly, we have zero interest in Jaipur. We sleep badly here, as the hotel is very noisy and the rooms, due to the old building, are not well isolated.
In the city it is too loud and too hectic. Too much honking, too many cars and people. So we prefer to spend some time in our room. We set up a kind of "workplace" and plan the further course of the journey with the help of our laptops.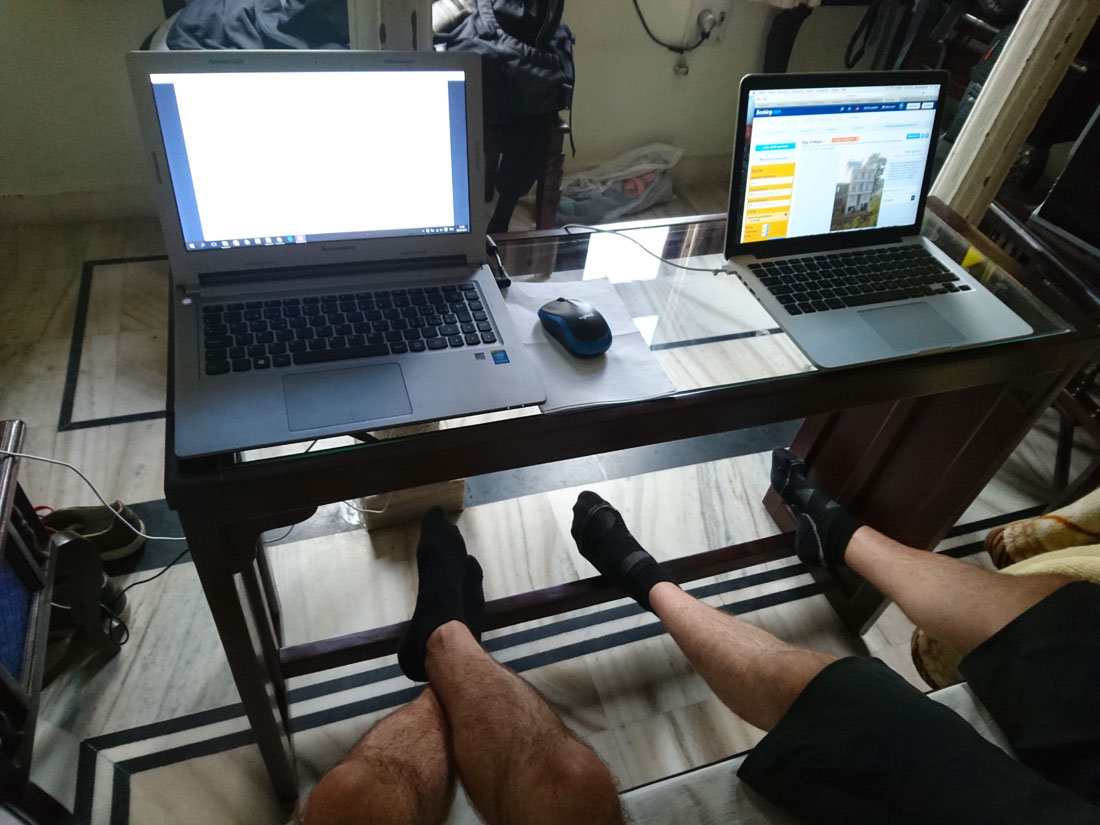 Actually we wanted to go to Darjeeling. You might know this place by its name. It is a very famous tea growing area in the mountains of the state of West Bengal. But to get there from Varanasi, you need a lot of time. Yes, India is just a very big country, we recall. We are tipping Darjeeling out of the program and look for an alternative.
On one of our lists we find some places that we had scratched off already. Aha, there was this place, north of Delhi, that I was so interested in, says Dom. Haridwar. Mainly known for religious rituals. This city is located at the spot where the Ganges flows from the mountains into the plain and is considered one of the seven sacred cities for Hindus. Our research also reveals that it is possible to fly from Varanasi stopping over in Delhi to an airport very close to Haridwar.
And if the cultural part of the city is not really something, we can evade to the nearby Rajaji National Park, I explain. That sounds good and we agree! So we book the whole thing. Then we look for accommodation briefly- ok, it actually took longer – and also book one.
So, that's enough time spent in front of screens, looking at hotels, guide books and flights. Let's go to dinner! Actually, we would be very keen on a beer, but in many places here there is simply no beer. Whether that is because of the religion or because of what else, we often do not know. We ask in the restaurant of the Hotel Orion whether we can get a beer. We are told that this is not possible.
But then suddenly it becomes possible. We are taken to the roof top, which was described as a bar. But up there on the roof is nothing! A flat, large roof. That's it. Now a waiter brings a table. And two chairs. Then a tablecloth. While he is setting up the place, we are looked after by a kind of manager who has brought us up here. His name is Om. We take a few pictures and then the waiter comes along with two large, cold bottles of beer! Hahaha yeahh =)
Everything only for the two of us. There is a certain secrecy with the alcohol here. Later, a group of Indians comes up here too. Another table is being prepared for them. So the drinking should rather be hidden, hehe. We say goodbye with a big tip and go to the restaurant to eat. Tomorrow we would be back at the railway station again to go to the city of Agra, where the Taj Mahal stands!
PS: I exchanged my cellphone number with the manager, who has so kindly looked after us. The following weeks he texted me again and again. Each time he writes "Sir" at the end of every sentence. Then I tell him that he does not need to call me Sir. Then comes the answer: ok, Sir. Hahaha, that continues to this day.