The Switzerland of Africa – part one
The Switzerland of Africa – part one
What to expect of today? A smooth and uncomplicated journey to my final destination? Or perhaps a night in a hotel room in Amsterdam? I couldn't tell yet.
I had planned this trip for months and now that it actually became real, I didn't really know what to expect. Of course, I had informed myself about the current situation, concerning security and safety in the two countries I was about to visit. But one can only read so much about a place; experiencing it is something different. By that I mean to smell the fragrances, to taste the food, to see the people.
Rwanda is a place I had never visited before. The first time I heard of this country, was by watching the movie "Hotel Rwanda", which tells us from one angle about the genocide, which took place in this land in 1994.
Many years later, I read Romeo Dallaires book "Shaking Hands with the Devil". The Canadian generals account about his personal experience of the genocide – he was actually the commanding officer of the military UN mission in Rwanda at the time – struck me.
Not only he tells the reader about the failure of the mission and the one of the international community, but also he reveals in shocking detail, how Rwandans, many of them having been neighbours for years, cruelly killed each other, sparing not even the youngest. This is indeed a book, that can make you cry and, that can also make you lose faith in humanity. To sum up, the most I knew about Rwanda, had exclusively to do with the terrible genocide. Yet this country cannot only be known for it's frightening past, can it?
When I started to read more, I found out that nowadays the place is a rising star on the African continent: promising economy, the highest share of female politicians in a parliament worldwide and extremely clean, for African standards that is.
I was intrigued and asked myself, how it is possible to move on in a society, that was deeply separated after the genocide. I really wanted to see, how this comparatively small nation got out of the misery onto the tracks to become the "Switzerland" of Africa.
However, I had to get there in the first place! It was 06:30 in the morning and I was waiting at the gate for all regular passengers to board this flight to Amsterdam. Am I not a regular passenger myself? Not really, since I booked this flight with a huge discount, for I work in the airline industry. This means nevertheless, that I only get a seat, when there is an unoccupied one available at the end of the boarding process. You can imagine the nail-biting moments while everybody goes on board, with yourself left behind at the gate, hoping for someone else not to show up, in order to grab his seat.
On the morning of January 20th 2020, this worked fine for me. I got on the plane and started preparing my next moves already. There was a second flight to catch in Amsterdam. Would there be enough seats available? Would I be on time to make the connection in the first place? A few minutes later, we halted on the taxiway. Unfortunately, this little stop took longer than the usual traffic stop. The Commanders announcement about a technical issue with the gear, came as no surprise to me consequently. I began to count the minutes, while I got ever more nervous. Ultimately, we took off with more than one hour of delay.
Nevertheless, I got to see a wonderful sunrise over the Netherlands from my window seat.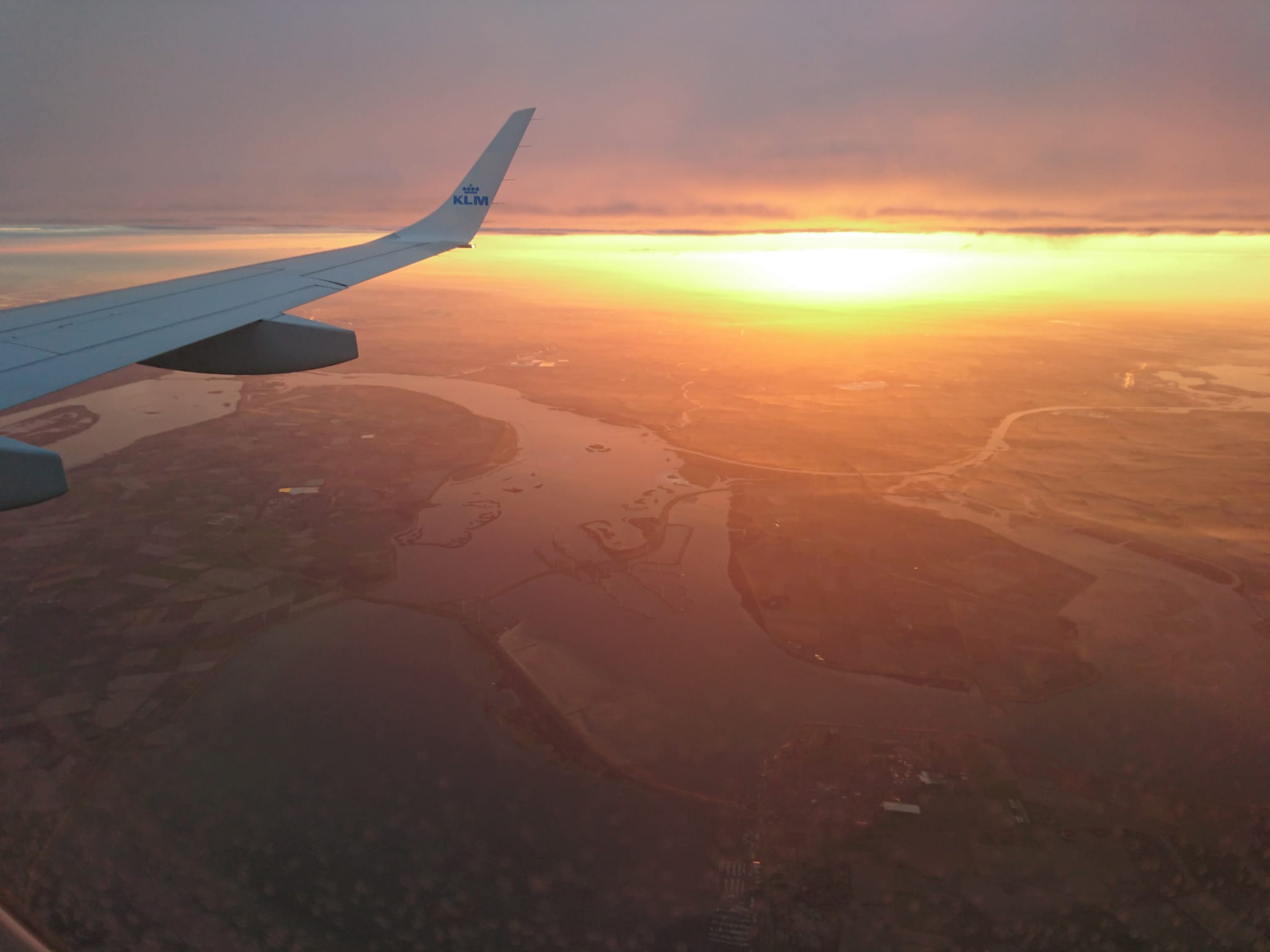 Once I arrived at the terminal building by bus, I was eager to find the correct gate for my corresponding flight to Kigali. The second I saw it, I started running towards it. Luckily, Amsterdam's Schiphol Airport was experiencing huge delays on this day as well, so I didn't need to worry about my flight to Africa leaving already.
The lady at the gate counter told me in a quite harsh tone, however, that I had needed to be at the gate one hour prior to departure already.
Obviously, that would have been quite impossible, since the initial connecting time was one hour and 10 minutes only, let alone the actual arrival of their company's belated aircraft from Zurich.
By looking around, I figured out, that there were other airline employees, who were hoping to get a seat on the machine to Rwanda. In the bus that brought us to the aircraft, I got to know some of them. A couple who was working for Air Canada, was also on its way to Kigali. By coincidence, we also got to meet Sam, who is not an airline employee, but who works in the Rwandan capital. I exchanged mobile numbers with him, just in case either of us would have time for a beer in the next two weeks, which I intended to spend in Africa.
When I finally sat down on my assigned seat, I was able to breathe again and calm down. No more flights to catch, no more airports to run through, and – especially important – no more gates to wait at for an opportunity to go along.
The flight was very pleasant for the first few hours. I enjoyed the meals and drinks as I read some pages in the lonely planet guide to Rwanda. Up until the moment when the plane started shaking. Since these turbulences were not forecast, they came as a surprise. Despite the fact that I am used to flying, I experienced these severe rumblings as unsettling. Soon, the commander announced that we were flying through a zone with CAT. Clean Air Turbulence is something, that neither can be predicted nor seen on a weather radar screen. It can occur anytime at any place in the air.
Sadly, the next few hours, the KLM Airbus A330 would not stop wabbling around, making it impossible for anybody to stand up and go to the bathroom.
After a short conversation with a fellow flight attendant of KLM, we landed safely in Kigali. The Dutch aircraft, however, would continue its journey to Entebbe. By the time I left the airport building, it was dark outside already. At the arrivals hall, there was a pick-up driver waiting for me, to get me to the hotel. For the two nights I planned to stay in Kigali, I had booked a nice accommodation at the upper layers of one of the cities hundred hills.
In fact, Rwanda is called the country of a thousand hills. A well-deserved name, how I was about to find out soon.
The 5 Swiss Hotel is a quiet, nice and clean place situated close to the financial district. After a good dinner with a beer at the hotel's restaurant, I went to my room to lay this long day of hustling to bed.
The next morning, I woke up to the sound of birds. Having eaten a great breakfast, I was out to score some cash. Literally, I needed Rwandan currency, for I didn't have any, which is not a good thing in a city, that I wanted to explore today. Easy enough, many ATMs grace the financial district, where my hotel is located. My next stop is the Kigali Genocide Memorial. In order to get there, I wanted to try out one of the famous moto-taxies, I had read about.
They are basically just motorcycles with a back seat, on which you sit as the passenger. And for safety reasons, you even get a helmet, hehe.
For I had read Romeo Dallaires book about the Genocide in Rwanda, and watched the movie "Hotel Rwanda" before, I thought I wasn't that bad prepared for what I was about to see. I was wrong. The Kigali Genocide Memorial features a museum, which shows us a timeline of the event. Starting with the German and Belgian colonisation, moving on to the independence, the ethnic tensions, the rebellion and finally brings us to the horrible happenings of 1994.
When I read the Canadian General's book, I often had to pause, to think about the passages that I had just read. I needed to let sink in the fact, that mothers with their new-born babies on their backs, took to the streets and killed other mothers and children.
I was trying to wrap my head around the fact, that people were burned alive in churches, where they sought refuge. And most of all, I tried to understand, why the international community did almost nothing to stop the killing of more than 800'000 human beings over a period of less than a hundred days.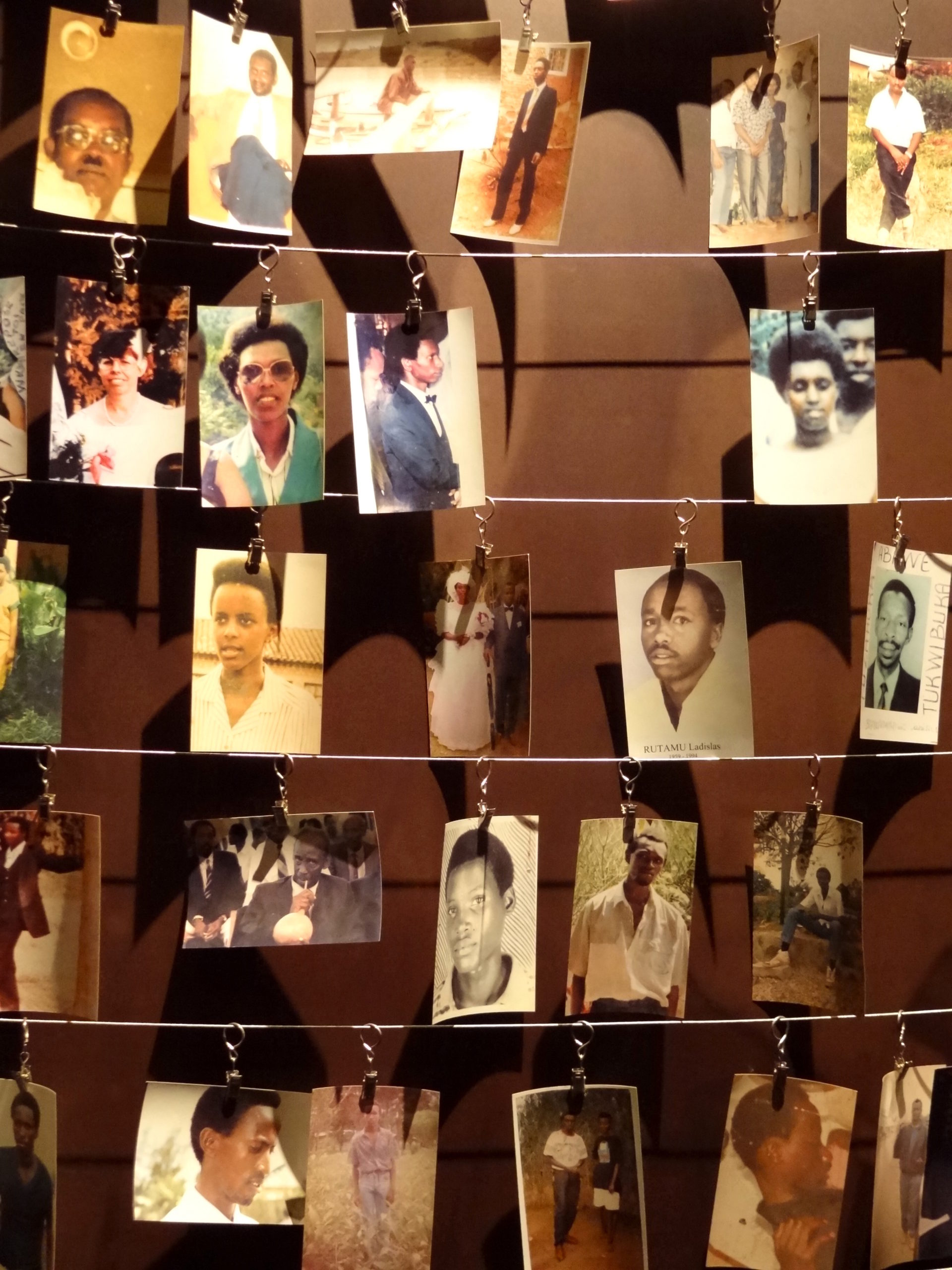 The museum, which is by the way excellently made, revealed more of the terrible slaughter, and also, very importantly, had a little focus on the media, especially the radio stations at that time. Why that is so important? Because radio was, and often still is in today's Rwanda, a medium that reaches a great part of the population.
There were in fact radio stations that proclaimed the dehumanisation of the Tutsi tribe – and moderate Hutus, denouncing them to cockroaches, unworthy of living, spreading conspiracy theories about them and by this made these people a target of hate.
Then I visited a special section about children, that were murdered by sadistic and hateful people. Bellow the picture of each victim were a few entries about them: their name, their favourite toys or food, how old they were and finally, most shocking, how they were murdered. I cried.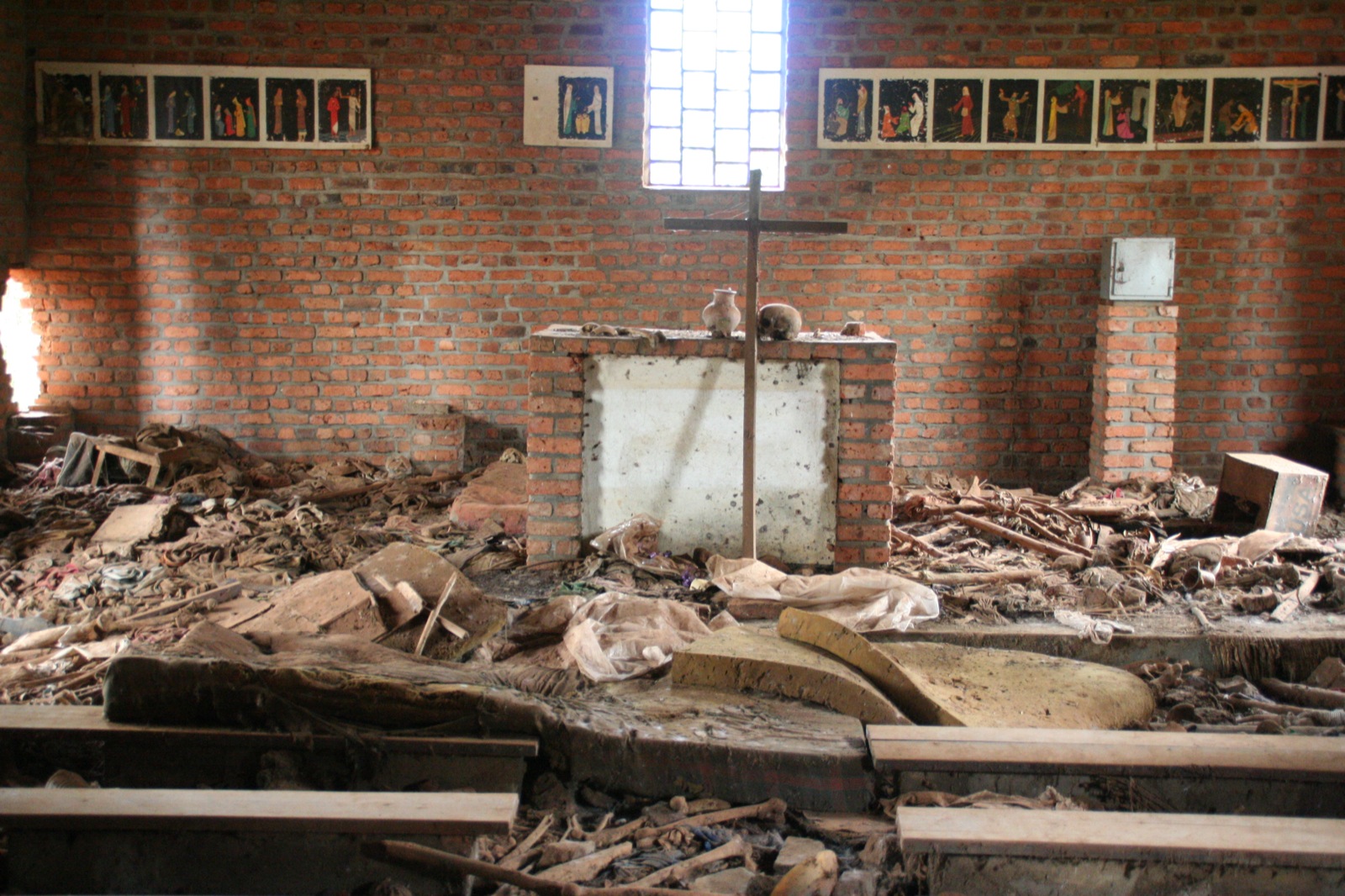 As a sidenote, I find it utterly important to know about this genocide. If you want to know more, here are some links:
https://en.wikipedia.org/wiki/Rwandan_genocide (Wikipedia entry on the genocide)
https://kgm.rw/ (The Kigali Genocide Memorials' website)
https://en.wikipedia.org/wiki/Shake_Hands_with_the_Devil_(book) (Romeo Dallaire's book)
The museum dedicates an own section to genocide in general, where you can learn about other genocides that happened and are happening around the world.
When I left the museum, I needed to calm down and settle. I had this huge inner restlessness. At the same time, I felt a void inside. I needed to shift away from the things I had read and seen. There was a little restaurant, attached to the museum.
When I saw a young woman, who had been standing close to me at times during the visit of the museum, I called on her. I asked her, if she wanted to sit with me, at the table, I had just occupied.
For me it felt like nobody should be left alone after a visit of this memorial.
Funny enough, Gwendoline, or Gwen – how she likes her friends to call her – is from France, where I had been the two preceding weeks. A good opportunity for me to practice my French once more, hehe. Even though she is French, the sympathetic woman lives in South Africa. Gwen is actually here in Rwanda for vacation.
We decide to spend the rest of the day together. For this reason, we head to my hotel to find out what else there is to see in Kigali. The visit of a local market is recommended to us and thus we hop in a taxi, organised by the hotel's staff. The driver let us get out close to the building. The market is inside a large, roofed, and dark construction, like a mess hall. This one, however, is packed with goods from vegetables to fish to toilet paper and much, much more.
While taking pictures, we are met by a young man, who volunteers to show us around. For a little fee of course, for nothing is for free, hehe. Before he heads off with us, we agree on a fixed price for the service. I think the initial amount was 2000 Rwandan Francs.
The place is remarkably interesting, and Gwen and I seem to be the only white folks around. This is obviously where people come to buy fresh food like tomatoes, cucumbers, peppers, carrots, egg plants and much more. As mentioned above, fish is being sold as well. When our little market tour comes to an end, the somewhat funny but also somewhat stoned young man suddenly increases the price. He now wants double. Well, Gwen and I don't want to get involved in a big discussion and therefore give him 3000 Francs for good measure.
Later, we find ourselves in a little shopping mall, where I can get some more cash, this time in US Dollars to pay for a tour I had booked before. Then we decide to go for a little walk in the financial district. There we find the Ubumwe Grande Hotel with it's amazing roof top terrace. I can't resist to go up there and have a drink. Gwen agrees and off we go. The view is particularly beautiful.
Since we liked it so much, we agree to meet here again for dinner. I get a nice Virunga Beer, while Gwen enjoys some white wine. The Indian food I had, was also fabulous, and the background music from the nineties. Thus, my visit in Kigali comes to an end and Gwen and I would go separate ways. She would go to rural Rwanda to see the mountain gorillas, whereas I would move into the Congo to experience them. But I would be back in a few days, to see more of this very interesting country!